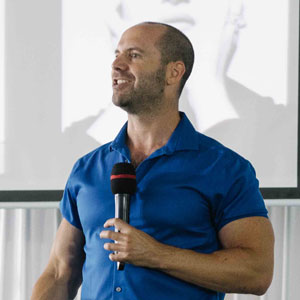 Todd Kashdan, PhD, is a professor of psychology at George Mason University, where he's senior scientist at the Center for the Advancement of Wellbeing. He's been a leading researcher in positive psychology from when that area first started to blow up and often plays the role of someone who challenges established wisdom. He's not one to shy away from controversy.
When looking for the right job, Dr. Kashdan sought the one that would give him the most autonomy in his work. He's delighted that at George Mason he's been able to follow his interests. As he gleefully states, he "gets paid to read books, write articles, and study whatever he wants," which includes but is not limited to gratitude, positive emotions, spirituality, purpose, curiosity, creativity, resilience, and anxiety – just to name a few.
Dr. Kashdan doesn't shy away from controversial, and that's, at least partly, by design. His mantra is, whatever is the zeitgeist of the moment – be it mindfulness, positivity, etc. – there must be a psychological benefit to the opposite. That's why you'll frequently hear him arguing for the very opposite of whatever is the popular message of the day.
In today's episode, Dr. Kashdan and I dive deep into his controversial side. He shares the story of the impromptu speech for which he was "banished" as a speaker from a well-known positive psychology organization. He shares lessons he's learned on softening his approach and explains why he's not about to give up on speaking out. He also shares his card-based method for capturing and organizing his thoughts, ideas, and insights.
If you want to read some more about the ways he's organizes his work and his productivity tools, this blog post goes into a lot more details: https://www.psychologytoday.com/us/blog/curious/201701/essential-set-tools-productivity-work
In this episode, you'll learn…
Why Dr. Kashdan chose a position at George Mason
Why Dr. Kashdan often takes an opposing position from whatever is most popular
How reading a Charles Spielberger chapter on curiosity in grad school inspired Dr. Kashdan's life work
How Dr. Kashdan captures and organizes his thoughts and ideas for his work
Why Dr. Kashdan seeks no more than an 80% approval rating from audiences
About Dr. Kashdan's morning and evening routines
Tips from the episode
On choosing a job…
Look for who will give you the most autonomy to study whatever you want.
Don't follow the trends or the money. Follow what is interesting.
On stealing like an artist…
Tinker with the ideas and theories others are developing
Create a template or framework based on the work of others you admire
On organizing and processing your work…
Use index cards and keep a separate container for each book or project with a section for each topic. Have index cards in all the places where you read, think, and work. Jot down ideas as you think of them.
Most ideas have to be thrown out. Kill your darlings, a la Stephen King.
Remember that you don't have the processing capacity to hold everything in your head.
On dealing with controversy
Be willing to be the counterpoint…and also be willing to have your mind changed.
If you have the right temperament, it's important to stand up to bullies in the field.
Try to separate the person from their work.
Try to bring people's defenses down so you can have an open, civil, interactive conversation.
Give context to the situation.
Links from the episode
Research Matters Podcast is hosted by Jason Luoma, who can be found on Twitter @jasonluoma or Facebook at: facebook.com/jasonluomaphd. You download the podcast through iTunes, Stitcher, or Spotify.
Podcast: Play in new window | Download