I'm pretty sure that Dr. Jonathan Bricker has more research funding to study Acceptance and Commitment Therapy than any other researcher (it's hard to confirm this as there is no central database). For this alone he's a person worth interviewing. He's also interesting as a researcher who deeply considers how research can help us scale psychosocial interventions to reach millions of people, and thus apps and websites feature prominently in his research. If you are interested in learning how to do clinical research that scales, then this is a guy you want to pay attention to. If you don't trust me that he has ideas worth spreading, then maybe you'll trust the over four million views of his TEDx talk on the science of self-control.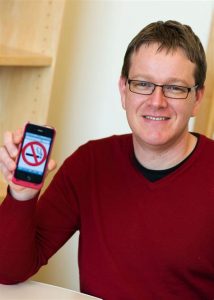 Meet Dr. Jonathan Bricker
He is founder and leader of the Health And Behavioral Innovations in Technology (HABIT) Group. A licensed clinical psychologist, he is a Full Member (equivalent to Full Professor) in the Division of Public Health Sciences at the Fred Hutchinson Cancer Research Center in Seattle, Washington. He is also an Affiliate Professor in the Department of Psychology at the University of Washington, where he mentors PhD students in their dissertations and clinical training. His research currently focuses on developing and testing innovative interventions for health behavior change, especially those delivered in technology platforms. He has been applying this expertise to smoking cessation and plans to expand to other key health behaviors. He has served as principal investigator or co-investigator on a variety of NIH research projects. Among his current research grants, he has a total of $15 million in NIH grants for the "WebQuit", "iCanQuit", and "TALK" study of Acceptance and Commitment Therapy for adult smoking cessation, comparing Acceptance & Commitment Therapy with traditional Cognitive Behavioral Therapy via web, smartphone app, and telephone. He has published over 80 peer-reviewed research articles in major scientific journals. Currently, he serves as Senior Editor of the journal Addiction – the highest impact substance abuse journal, is a regular member of the NIH Interventions for Prevention and Treatment of Addiction (IPTA) Scientific Study Section was recently a regular member of NIH Community Level Health Promotion (CLHP) Scientific Study Section. Dr. Bricker received his PhD in Clinical Psychology from the University of Washington.
In this episode, Dr. Jonathan Bricker shares how he became fascinated by psychology research, even though he started to college as an English major. This episode is packed full of information on how to create a strong research team, including how to find outstanding scientific collaborators and build a 'research work family.'
As much as Dr. Bricker enjoys working with smart and experienced people, he places a high currency on caring and compassion, and has tips and tricks for identifying these types of people.
Dr. Bricker also shares his thoughts on the limitations of the traditional psychology research training model, and discusses how he has found a positive and supportive work environment at a dedicated research center. If you are interested in working at an independent research center, he has important advice on how to move your career in that direction.
In this episode, you'll learn…
What it's like to work at a dedicated research center
Attributes to look for in a project manager
How to identify and cultivate great scientific collaborations
How to build an internal research team (your 'work family')
The guiding principles behind Dr. Bricker's work
Links from this episode:
Research Matters Podcast is hosted by Jason Luoma, who can be found on Twitter @jasonluoma or Facebook at: facebook.com/jasonluomaphd. You download the podcast through iTunes, Stitcher, or Spotify.
Podcast: Play in new window | Download