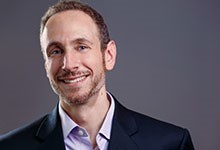 Today's interview is with Dr. Evan Forman, a professor of psychology at Drexel University and a director of the University's "WELL Center" (Center for Weight, Eating and Lifestyle Science), an interdisciplinary clinic, research, and training center dedicated to developing and sharing innovative solutions to treat obesity, poor diet, sedentariness and disordered eating.
He is a grant-writing machine, who's current projects have over $3 million in grant funding. He has authored over 150 manuscripts, and is the author of the "Effective Weight Loss" books (Clinician Guide and Client Workbook) for Oxford Press's "Treatments that Work" series.
Throughout his career, Evan has stayed flexible—pivoting from community to clinical psychology and even switching mentors midway through graduate school. Driven by a healthy dose of skepticism ("Are the results of this study actually going to matter?"), and a commitment to help others ("What research can I do to improve the human condition?"), Evan is developing scalable solutions to widespread social issues.
Aside from being a prolific researcher, Evan deeply values mentorship. He has mentored numerous undergraduate, masters, and doctoral students, and recently earned the ABCT Mentorship Award. This commitment to helping others be successful surely contributes to the success of the WELL Center; a vibrant community of researchers and clinicians committed to developing better solutions to issues of obesity, disordered eating, and sedentariness.
In this episode, you'll learn…
How to create fertile environments for collaboration
How to hire stellar project coordinators
How to incorporate behavioral tasks into interviews
How to have your values guide your research decisions
What Evan does to start and end a productive day
How to think about research at a meta-level
Tips from this Episode
On Collaboration
Watch out for the 'Fundamental Attribution Error'
Make the collaborator feel heard and respected
Give the collaborator space to contribute
Generate motivation and "buy-in" (e.g. have people contribute to the project right from the beginning, create community through group introductory meetings)
On Hiring Project Coordinators
Spread the word widely (listservs are your best friend)
Spread the word early (February or March)
Write an attractive and detailed description of the position
Write about how this position can help their career
Look for conscientious people who take pride in their work
Look for people whose careers will benefit from their work with you
Links from this episode:
Podcast: Play in new window | Download