I'm pretty sure that Dr. Jonathan Bricker has more research funding to study Acceptance and Commitment Therapy than any other researcher (it's hard to confirm this as there is no central database). For this alone he's a person worth interviewing. He's also interesting as a researcher who deeply considers how research can help us scale psychosocial interventions to reach millions of people, and thus apps and websites feature prominently in his research. If you are interested in learning how to do clinical research that scales, then this is a guy you want to pay attention to. If you don't trust me that he has ideas worth spreading, then maybe you'll trust the over four million views of his TEDx talk on the science of self-control.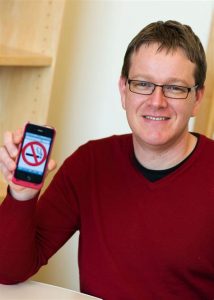 Meet Dr. Jonathan Bricker
Dr. Jonathan Bricker received extensive training in helping people who struggle with anxiety and substance use addictions, through his PhD program at University of Washington, and through serving as a research therapist in a large National Institute of Health (NIH) trial. Now, is an Affiliate Professor at
the University of Washington Department of Psychology, he has his own private practice, is the President of the Washington Association for Contextual Behavioral Science, Member at Large of the Association for
Contextual Behavioral Science, and is a full-time researcher at the Fred Hutchinson Cancer Research Center, where he leads a research team conducting cutting-edge clinical trials on Acceptance and Commitment Therapy, smoking cessation, and now weight loss.
In this episode, Dr. Jonathan Bricker shares how he became fascinated by psychology research, even though he started to college as an English major. This episode is packed full of information on how to create a strong research team, including how to find outstanding scientific collaborators and build a 'research work family.'
As much as Dr. Bricker enjoys working with smart and experienced people, he places a high currency on caring and compassion, and has tips and tricks for identifying these types of people.
Dr. Bricker also shares his thoughts on the limitations of the traditional psychology research training model, and discusses how he has found a positive and supportive work environment at a dedicated research center. If you are interested in working at an independent research center, he has important advice on how to move your career in that direction.
In this episode, you'll learn…
What it's like to work at a dedicated research center
Attributes to look for in a project manager
How to identify and cultivate great scientific collaborations
How to build an internal research team (your 'work family')
The guiding principles behind Dr. Bricker's work
Links from this episode:
Podcast: Play in new window | Download